News
Newsletters
---
September 2021
Energy House 2.0 is running another FREE workshop! This two-day event on the 14 & 15 September 2021, both face-to-face and livestreamed, will focus on electric vehicles and how they can contribute to a net zero carbon economy. Facilitated by experts in their field, the event will also provide an opportunity to view a range of electric / hybrid vans and cars and charging points.
Full details and registration can be found here.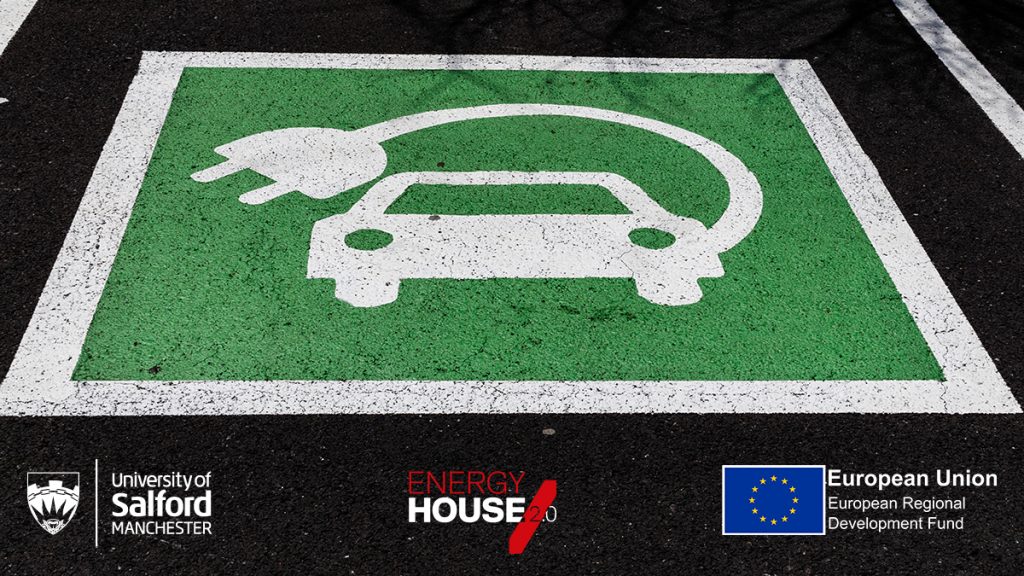 ---
April 2021
We are hosting a free-to-attend online workshop, broken down into five bite-size webinars, designed to meet the needs of construction professionals looking to gain a deeper understanding of domestic retrofit. The sessions will be held every Tuesday afternoon on the 13, 20 & 27 April, and 04 & 11 May. Full details and registration can be found at: ow.ly/Xwj450DXa0e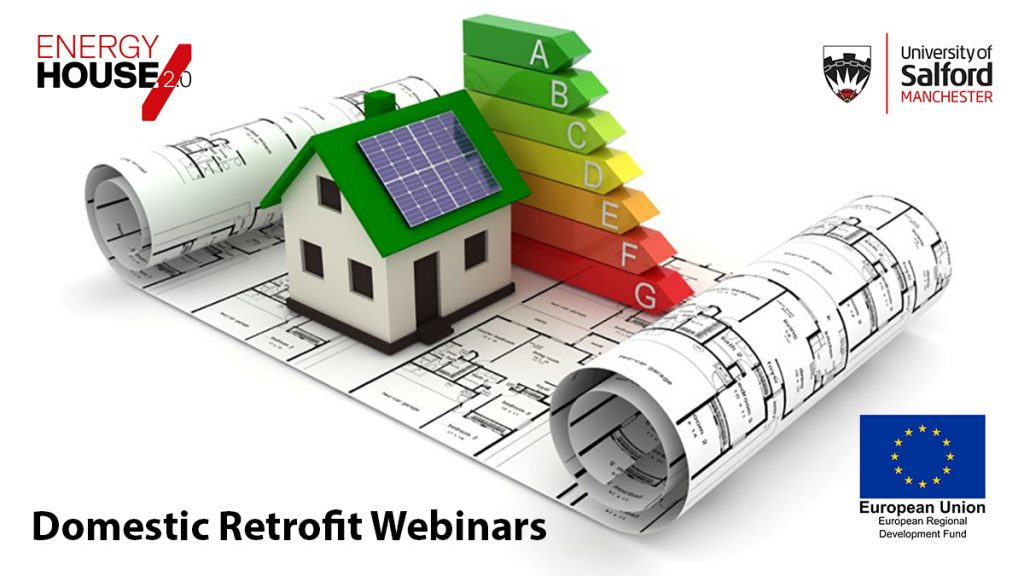 ---
March 2021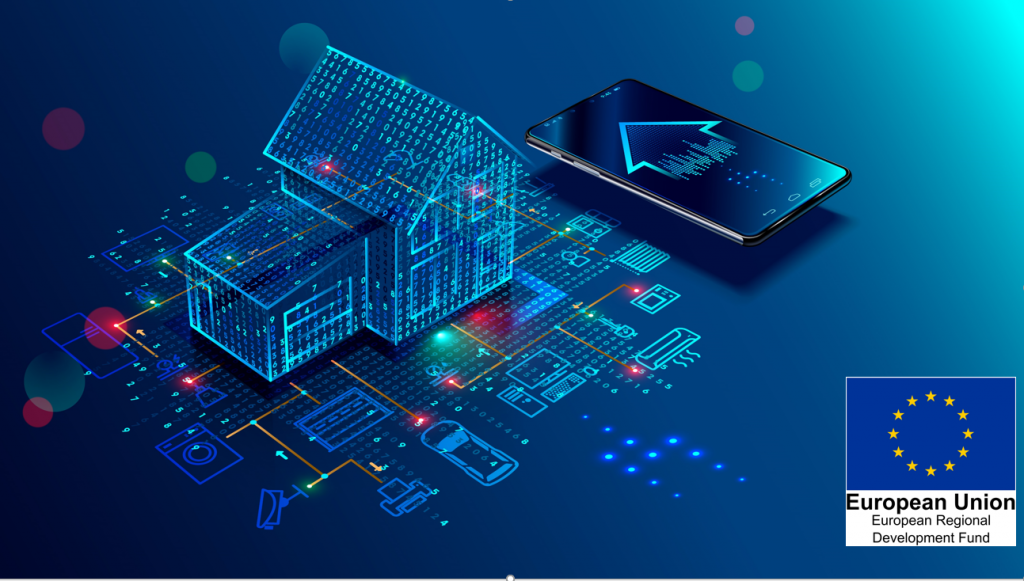 During March, we hosted a free-to-attend online workshop on the connected home and the data and devices that run them. The workshops were held across four afternoon sessions: Tue 2, Thu 4, Tue 9, and Thu 11, totalling 12 hours. Videos of the sessions are now available via the links below:
Session 1: An introduction to the Internet of Things (IoT) & the Smart Meter Infrastructure
Session 2: The Smart Home Ecosystem: Accessing and utlising sensor data Part 1
Session 3: The Smart Home Ecosystem: Accessing and utilising sensor data Part 2
Session 4: Integrating smart home devices and the Cybersecurity aspect of the smart home ecosystem
---
29 October 2020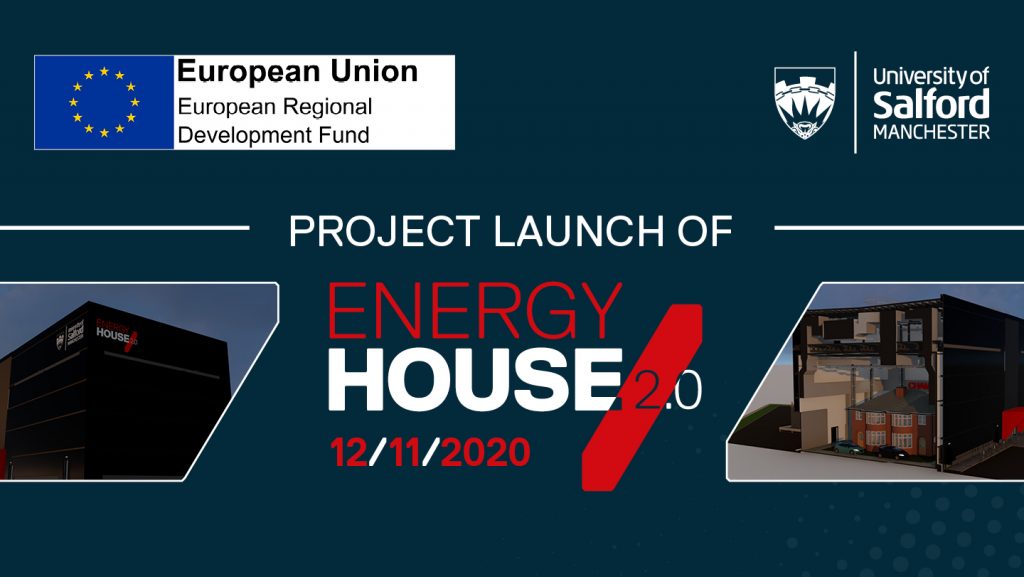 To access the Energy House 2.0 project launch event (Teams Live) on Thursday 12 November 2020, 10:00-11:00, please click here. If external to the University, you may need to join using the 'join anonymously' option.
To view a timelapse video of the Energy House 2.0 construction site, please click here.
Construction has begun on Energy House 2.0 and the Energy House Laboratories team would like to invite you to attend our virtual launch event on Thursday November 12 2020 between 10:00 and 11:00.
At the event, we will update you on:
Progress made on the Energy House 2.0 laboratory construction
Learn about the capabilities of this new test facility
Hear how Energy House 2.0 will support innovation and accelerate the development of new products and construction techniques
And, most importantly, how you can become involved
At this exclusive event you will also hear from a range of speakers, including:
Kwasi Kwarteng, Minister for Clean Growth (invited)
Andy Burnham, Mayor of Greater Manchester (invited)
Professor Helen Marshall, Vice Chancellor
Greg Jackson, Chief Executive of Octopus Energy
Oliver Novakovic, Barratt Homes
Professor Will Swan, Director of Energy House Laboratories
Dr Richard Fitton, Energy House 2 Research Lead
Bowmer + Kirkland (invited)
Karolis Petruskevicius (Homely Energy Ltd)
Keith Rimmer (Thermocill Ltd)
Lisa Furlong (Furlong Innovations Ltd)
To book your place, please click here
---
14 October 2020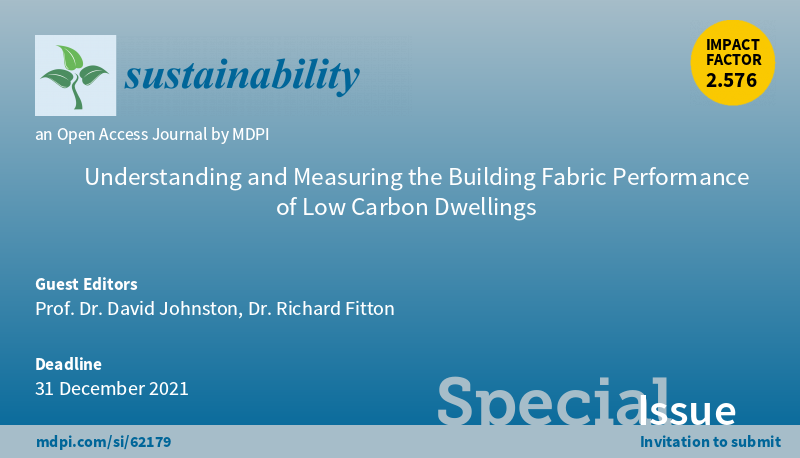 Call for articles
Prof David Johnston (Leeds Beckett University) and Dr Richard Fitton (University of Salford) are editing a special issue of the Journal, Sustainability, entitled 'Special Issue "Understanding and Measuring the Building Fabric Performance of Low Carbon Dwellings"'.
They would like to invite original papers or state-of-the-art reviews dealing with the issues surrounding the thermal performance of the building fabric in new build dwellings and new, novel or existing techniques that can be used to assess, measure and quantify the fabric performance of new dwellings in-use, with particular encouragement for the submission of papers that develop the area of cost effective and rapid solutions of building performance measurement.
Deadline for manuscript submissions: 31 December 2021
Full details can be found at: https://mdpi.com/si/62179
---
29 April 2020
We are delighted to share a new video demonstrating how Energy House 2.0 will look and operate…check it out below. If you have any questions, please contact us at energyhouse2@salford.ac.uk
---